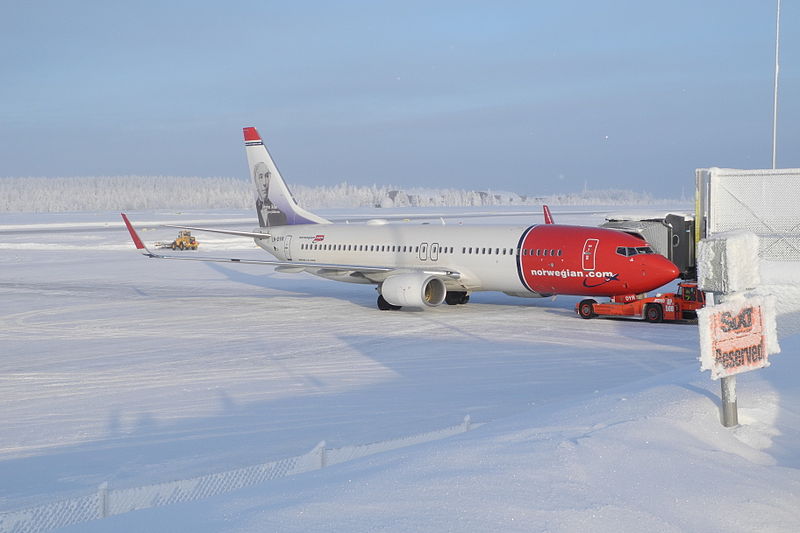 The airlines that operate flights to the Norwegian Lapland are SAS, Norwegian, Condor and Widerøe.
Tromsø is the biggest city of the Norwegian Lapland with the greatest influx of fligths. The airlines to operate to the Langnes Airport of Tromsø are Scandinavian Airlines, Norwegian, Aeroflot and Widerøe. The airport has several internal connections within Norway, included many flights to other destinations in the Norwegian Lapland, as well as some international destinations to countries such as  Spain, Germany, Turkey or Sweden.  
Click here for more information on flights to Tromsø.
FLIGHTS TO KIRKENES
The arilines flying to the Kirkenes Airport are SAS, Norwegian, Condor and Widerøe. Below the possible routes:
WIDERØE from Altá, Berlevåg, Båtsfjord, Hammerfest, Hasvik, Honningsvåg, Lakselv, Mehamn, Sørkjosen, Tromsø, Vadsø and Vardø
SAS from Oslo
NORWEGIAN from Oslo
FLIGHTS TO ALTA
WIDERØE from  Båtsfjord, Hammerfest, Kirkenes, Honningsvåg, Lakselv, Mehamn, Sørkjosen, Tromsø and Vadsø 
SAS from Oslo and Tromsø
NORWEGIAN from Oslo and Tromsø
IBER WORLD AIRLINES from Creta Chania
ATLANTIC AIRWAYS from Copenhague 
FLIGHTS TO HASVIK
WIDERØE from Berlevåg, Båtsfjord, Hammerfest, Kirkenes, Tromsø, Vadsø, and Vardø  
FLIGHTS TO HAMMERFEST
WIDERØE from Altá, Berlevåg, Båtsfjord, Hasvik, Honningsvåg, Kirkenes, Mehamn, Sørkjosen, Tromsø, Vadsø and Vardø
FLIGHTS TO HONNINGSVÅG
WIDERØE from Altá, Berlevåg, Båtsfjord, Hammerfest, Kirkenes, Mehamn, Tromsø  and Vadsø 
FLIGHTS TO LAKSELV
WIDERØE from Altá, Kirkenes and  Tromsø
NORWEGIAN from Oslo
CIMBER STERLING from Billund
BGH
 from
Bourgas
and
 Alesund
IBER WORLD AIRLINES from Madrid
FLIGHTS TO MEHAMN
WIDERØE from Altá, Berlevåg, Båtsfjord, Hammerfest, Honningsvåg, Kirkenes, Sørkjosen, Tromsø and Vadsø 
FLIGHTS TO BERLEVÅG
WIDERØE from Båtsfjord, Hammerfest, Hasvik, Honningsvåg, Kirkenes, Mehamn, Sørkjosen, Tromsø, Vadsø and Vardø
FLIGHTS TO BÅTSFJORD
WIDERØE  from Altá, Berlevåg, Hammerfest, Hasvik, Honningsvåg, Kirkenes, Mehamn, Sørkjosen, Tromsø, Vadsø and Vardø 
FLIGHTS TO VADSØ
WIDERØE from Altá, Berlevåg, Båtsfjord, Hammerfest, Hasvik, Honningsvåg, Kirkenes, Mehamn, Sørkjosen, Tromsø and Vardø 
FLIGHTS TO VARDØ 
WIDERØE from Berlevåg, Båtsfjord, Hammerfest, Hasvik, Kirkenes, Tromsø and Vadsø