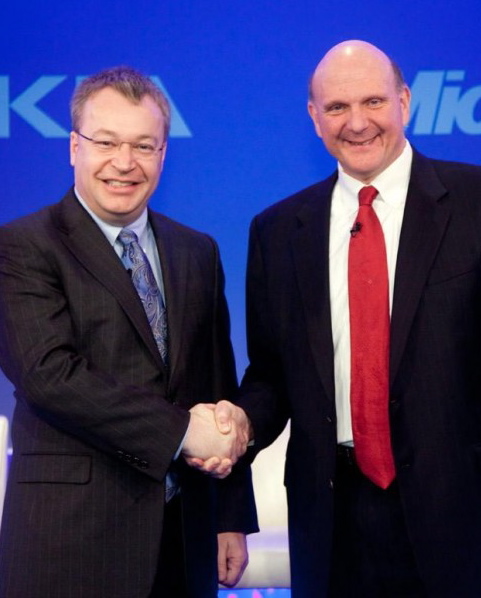 Yesterday September the 3rd was communicated the acquisition of the Finnish company Nokia by the software giant Microsoft with the amount of 5,440 millions of euros.
The sale of the Finnish company caused large increases in the value of the NOKIA shares that reached up to 49 % within the journey yesterday.
The previous president of Nokia, Stephen Elop resigned on Monday night leaving the leadership of the company in the hands of Risto Siilasmaa who will be the head of Nokia until Microsoft completes its acquisition in the first quarter of 2014.
The name that sounds for the future president of Nokia after this transition phase is the Finn Juha Ihamuotila.
The third part of the amount paid for this macro acquisition by Microsoft is addressed to Nokia 's patents, the rest of the investment being used in the devices and services of Nokia's LUMIA smartphones that have been issued since two years and a half with the operating system Windows Phone. Microsoft also acquired the rest of the Nokia models.
The sale of the company has been a symbolic change to the Nordic country that has now definitely lost its " crown jewel " , although in recent years Nokia had suffered several internal policy changes as well as had seen increased it's foreign investment, since the company was in difficulties in adapting to the smart phone market .
From Microsoft it is now indicated that this change is a good thing for the two companies for both their employees and their shareholders, as the market share of both companies expects to be benefited . Steve Ballmer , who resigned as the president of Microsoft this week announced that this acquisition will mean an increase in the market strength that will bring benefits for both companies and their partners.
Microsoft  announced as well that the 32.000 employees of the Finnish company will stay in their jobs, including managers Juha Putkiranta , production and logistics director of Nokia ,Timo Toikkanen the director of the traditional mobile phones ,  Chris Weber, the sales and marketing director and Jo Harlow, Smartphones division Director. As to Stephen Elop , his name sounds like an option to succeed Ballmer as the new president of Microsoft. Elop has now come to take charge of the services and product department in Nokia until the transition is complete.
The aim of the purchase, the goal of the new unified company , is to strengthen the Windows Phone operating system and strengthen its position in the mobile phone market , with the collaboration of the best programmers from Microsoft and advanced engineering and design of the Nokia products.
The Finnish company has announced that the preparation for this sale began as early as January to February this year . According to the information by Fiva, dedicated to financial supervision , Nokia workers could not benefit of purchase and sale of the company's shares in the Tuesday's  final climb of 34 % , given the financial control of Finland's laws .