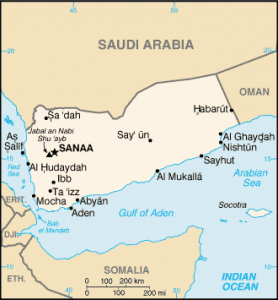 Two Finns and one Austrian were kidnapped yesterday Friday in the Yemeni capital, Sanaa.
Apparently the kidnapped are a Finnish man who was studying Arabic at the University of Cales, Yemen, and his girlfriend who was only visiting the country. The Austrian Man is also a language student.
According to the information that has come to AFP, it is suspected that Al Qaeda is behind the kidnapping. A source from the Yemeni security forces had revealed a little more than a week ago that al-Qaida had launched a threat on kidnapping Western citizens in the area.
The kidnappers took their prisoners in an electronics shop in the Plaza Tahrir in downtown Sanaa. The owner of the store had just begun to attend the three foreigners when three armed men appeared in a Suzuki Vitara, entered the store and forced the two men and the woman in his vehicle.
"The three foreigners came to see cameras. Meanwhile, three men entered with guns. The woman fell to the ground immediately, then one of the men. The other raised his hands. They were paralyzed by fear. Then the kidnappers dragged them into the car, "said Brigade commander, Omar Abdulkarim for Reuters TV in Sanaa.
Yemeni authorities say they know who the kidnappers and believe they will soon be arrested.
"We know who are the people who stole the license plates that the hijackers used in the car. The investigation continues and they will be arrested soon," said Omar Abdulkarim Saturday.
The Finnish Foreign Ministry also sent a representative to Yemen this Saturday. Finland has no diplomatic mission in the country. The research is being conducted in cooperation with Austria.
The Finnish Foreign Ministry issued a travel advisory on the 17th of this month, warning of the threat of kidnappings in Yemen and urging Finns to avoid travelling to the country.