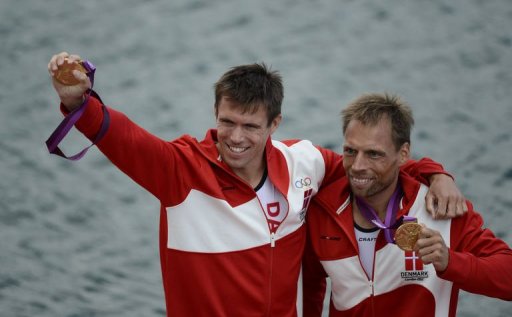 Denmark has already won two gold medals at the London Olympics 2012.
On Saturday the Danishrowing  couple Mada Rasmussen and Rasmus Quist  won gold in Men's lightweight double sculls at the Lake Eton bringing to Denmark its first gold medal in these games. The Danes left behind the British and New Zealanders who took second and third place respectively.
On the other hand the Danish cyclist Lasse Norman Hansen managed yesterday the second Olympic gold for Denmark by winning the omnium mode of track cycling at the velodrome in London. This way the Dane challenged the British who had already won four of the five gold medals in track cycling. The silver went to the French cyclist Bryan Coquard  and the bronze to the British Edward Clancy.
In addition to the gold medals, Denmark has also managed a total of four silver medals so far; in men's badminton  doubles, in singular female rowing with Fie Udby Erichsen , in sailing with Jonas Hogh-Christensen and in shooting with Anders Golding.
Denmark has also won two bronze medals in both quadruple scull lightweight rowing and in mixed badminton.
Congratulations to Denmark! Hope they will win many more medals in the remaining games.