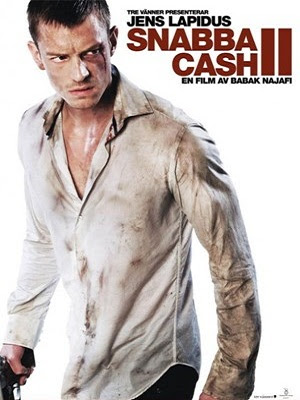 The past August was released in Sweden "Snabba Cash II", (Easy Money II)  the sequel to the hit Swedish film "Snabba Cash" (Easy Money), directed by Daniel Espinosa in 2010.
With Espinosa and now as producer and under the direction of Swedish-Iranian Babak Najafi, "Snabba Cash II", like the first part, is based on the bestselling novels about gangsters of the Swedish writer Jens Lapidus. This sequel set in a Swedish prison has had great reviews in it's home country and will be released in the rest of the Nordic countries in the coming months and in England on the occasion of the London Film Festival in October 2012.
This fast-paced action film tells the story of JW, a promising business student turned into a cocaine dealer who is undergoing a jail sentence and is struggling to return to an honest life. But there is a man in his past that changes the course of his peaceful conduct in prison – Slovovic Mrado, a former assassin.
In the meanwhile a fellow drug trafficker Jorge, related to JW, returns to Sweden for a giant cocaine deal, which fails disastrously and Jorge has to flee the country with both the police and the Serbian mafia breathing behind his neck. Meanwhile Mahmoud owes a large sum of money to the Serbian mafia boss, Radovan. Unable to pay his debt, the only option he has is to find and kill Jorge.
The film is starred by the actors Joel Kinnaman, Fares Fares, Matias Varela and Dragomir Mrsic, while the screenplay is adapted from Jens Lapidus' books by Maria Karlsson together with Peter Birro, Babak Najafi and Fredrik Wikström.
The production companies involved are Film i Väst and Tre Vänner Produktion, while the distrubution is organized by Nordisk Film.