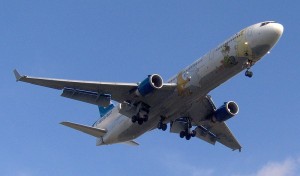 The easiest way to fly to Finland is fly to the capital
Helsinki,
more specifically to 
Helsinki-Vantaa Airport 
(Helsinki-Vantaan lentokenttä). You can also fly to the following Finnish cities that have an airport:
Oulu, Turku, Tampere, Kemi / Tornio, Kajaani, Rovaniemi, Kuopio, Vaasa, Joensuu, Turku, Ivalo, Savonlinna, Tampere, Lappeenranta, Jyväskylä, Kokkola / Pietarsaari Kruunupyy, Kittilä, Kuusamo, Mariehamn, Pori, Varkaus and Enontekiö.
The airline with most air infrastructure in Finland is the Finnish airlines, Finnair. Finnair also dominates most domestic flights within Finland along with other companies such as Blue1 (Finnish airline that belongs to the SAS group), Air Åland (Ålandic company that flies the route Helsinki-Mariehamn-Stockholm), Flybe (company from Seinäjoki operating flights from the Finnish province to the capital Helsinki) and Fly Lappeenranta (company that flies between Helsinki and Lappeenranta).
In addition to a variety of European and intercontinental air carriers, there are also Low Cost airlines flying to Finland, such as Aer Lingus, Air Baltic, Air Berlin, Air Finland, Blue1, Flybe Nordic, Norwegian, Ryanair and Wizzair . Click here for more information on low cost flights to Finland.
List of all the airlines flying to Finland:
Aer Lingus (EI)
Aeroflot Russian Airlines (SU)
Air Berlin (AB) 
Air Canada (AC)
Air Finland (OF) 
Air France (AF) 
airBaltic (BT) 
Alitalia (AZ) 
American Airlines (AA) 
Austrian Airlines (OS) 
Belavia (B2) 
Blue1 (KF) 
BMI (BD) 
British Airways (BA) 
Brussels Airlines (SN) 
Bulgaria Air (FB) 
Cathay Pacific (CX) 
China Southern Airlines (CZ) 
Continental Airlines (CO) 
Corendon Airlines (CAI) 
Croatia Airlines (OU) 
Czech Airlines CSA (OK) 
Delta Airlines (DL) 
Finnair (AY) 
Flybe (BE) 
Freebird (FHY) 
Gotlandsflyg (Avitrans Nordic) 
Iberia (IB) 
Icelandair (FI) 
Japan Airlines (JL) 
KLM Royal Dutch Airlines (KL) 
LOT Polish Airlines (LO) 
Lufthansa (LH) 
Malaysia Airlines (MH) 
Nordavia (5N) 
Norwegian (DY) 
Nouvelair Tunis (BJ) 
Primera Air (PF) 
Rossiya Airlines (FV) 
Rusline (7R) 
RyanAir 
SAS Scandinavian Airlines (SK) 
Singapore Airlines (SQ)
SunExpress (XQ) 
Swiss International Air Lines (LX) 
TAP Portugal (TP) 
Thai Airways (TG) 
Thomas Cook Airlines (DK)
Turkish Airlines (TK) 
Ukraine International Airlines (PS) 
United Airlines (UA) 
Ural Airlines (U6)
US Airways (US)
Wizzair
Airlines operating domestic flights within Finland:
Finnair
Blue1
Air Åland 
Flybe
Fly Lappeenranta 
Norwegian