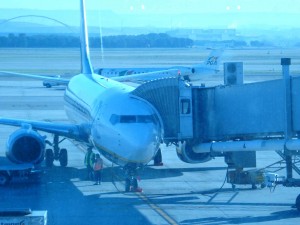 In the recent years the low cost airlines have settled in Finland, a country which had remained isolated from the best european flight offers during several years. Due to the small population of Finland and its isolated geographical position, surrounded by the Baltic Sea, the air carriers' investors had stayed out of the Finnish airline business. This tendency, however, has changed. Here's all the information on low cost airlines operating flights to Finland.
RYANAIR:
The Irish company Ryanair, the largest low cost company in the world, flies to Tampere Pirkkala Airport from the following destinations: Palma de Mallorca, Malaga, Riga, Oslo, Pisa, Alicante, Rome, Trapani, Edinburgh, Milan, London-Stansted, Frankfurt-Hahn, Kaunas and Bremen.
Ryanair also has flights to the Finnish Lappeenranta Airport from Düsseldorf, Milan and Brussels.During the spring 2012 Ryanair will begin operating flights to the Turku Airport from Girona (Barcelona), Malaga, London-Stanstedt and Brussels Charleroi.
NORWEGIAN:
The low cost carrier Norwegian flies to Helsinki-Vantaa from Alicante, Malaga, Barcelona, ​​Rome, Crete, Copenhagen, London, Nice, Oslo, Stockholm and Split. It also operates the route Turku – Stockholm and domestic routes in Finland from the airports of Helsinki , Oulu, Rovaniemi Ivalo and Kittila.
The company will open new routes by April 2012 from Paris, Rhodes, Corfu and Palma de Mallorca to Helsinki.
AIR FINLAND:
Air Finland is a Finnish holiday flight company with quite reasonable prices. Air Finland operates flights to Helsinki from Alicante, Malaga, Las Palmas de Gran Canaria, Tenerife, Dubai, and the islands of Madeira, Crete and Rhodes.
The company also organizes charter flights from Finland to destinations like the Costa Blanca, Costa del Sol, Hurghada, Antalya, Belek and Samos.
BLUE1:
The Finnish company Blue1, belonging to SAS (Scandinavian Airlines), is considered a low-cost carrier by its cheap prices, but actually the company is not officially considered low cost. Blue1 is the second most used Finnish airline by passengers after Finnair.
You can easily fly to Finland with a stopover with Blue1 from many European cities as the company maintains close relationships with their "parent company" SAS. You can also catch a direct flight to Helsinki with Blue1 from the following sources: Brussels, Dubrovnik, Athens, Edinburgh, Marseille, Copenhagen, Nice, Oslo, Pula, Split, Zurich and Stockholm. Blue1 soon will operate also flights to Helsinki from Bologna and Budapest.
Blue1 operates domestic flights in Finland from the following airports: Helsinki-Vantaa Airport, Kittila, Kokkola-Pietarsaari, Kuopio, Kuusamo, Oulu, Pori, Tampere-Pirkkala, Turku and Vaasa.
AIR BERLIN:
Airberlin is a German low cost carrier that has more than 150 destinations in Europe and worldwide. With this company you can fly to Helsinki with a direct flight from Berlin and Düsseldorf. Airberlin works in partnership with Finnair, allowing the possibility to travel to Finland with this company from many other sources such as Spain, Italy, Greece or Egypt.
FLYBE NORDIC:
The Low Cost company Flybe Nordic was born from the union of the British airline company Flybe and Finnair, when the two bought together the Finnish carrier Finncomm Airlines.
Flybe operates domestic flights within Finland to the airports of Helsinki, Mariehamn, Turku, Tampere, Pori, Vaasa, Kokkola, Jyväskylä, Mikkeli, Savonlinna, Kajaani, Oulu,Kittila, Kemi, Kuusamo and Enontekiö.
The company also operates flights from Helsinki to the cities of Gdansk, Norrköping,Skellefteå, Tartto, Trondheim, and Umea.
AIR BALTIC:
Air Baltic is a low-cost airline owned by the state of Latvia and the Scandinavian airlines, SAS. Air Baltic flies to Finland from Riga, Tallinn and Umeå, offering the chance to travel to Finland with a scale from most major European cities.
Air Baltic also operates domestic flights from the following finnish airports: Helsinki-Vantaa, Turku, Lappeenranta, Tampere, Kuopion, Oulu, Vaasa and Rovaniemi.
AER LINGUS:
The Irish company Aer Lingus became part of the low cost concept in 2007 and flies to Helsinki from Dublin.
WIZZAIR:
The hungarian low cost carrier Wizzair operates flights from Turku Airport to the Polish city of Gdansk and the Hungarian city of Budapest.