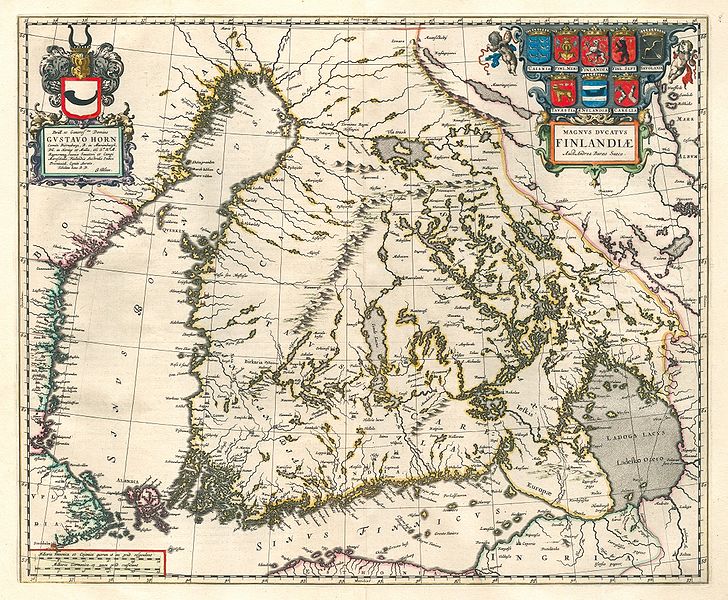 Finland's history begins some 10,000 years ago when the territory of the current Finland started releasing from the thick ice that had covered its surface during the ice age. That is when the area now known as Finland was inhabited by the first settlers who came from the south and east. Throughout the prehistoric era, until the end of the Viking Age around the year 1050, Finland was settled and resettled until becoming a mixture of Finno-Ugric tribes and Indo-European tribes, with the predominance of the Finno-Ugric culture and language. The prehistoric era is considered completed in Finland around the year 1150 with the first Christian crusade to the Northern Europe.
During the strictly historical era, Finland spent more than six centuries under Swedish rule, after which it became a grand duchy of Russia between 1809 and 1917. In 1917 Finland became independent, coinciding with the second Russian revolution. The Bolshevik coup increased political differences in the newly independent Finland which was dragged into a five-month lasting civil war in 1918.
Between the two World Wars Finland was industrialized at the fastest pace in Europe highlighting especially in forestry processing industries.
The advantageous peace treaty that Finland had signed with the Soviet Union in 1920, was broken in 1939 with the invasive by USSR to Finland that sparked the "Winter War" between the two countries. On one hand, some years earlier in 1935,  Finland had adopted a Scandinavian orientation in its foreign policy to ensure its neutral position, while on the other hand, the Soviet Union and Germany had signed in 1939 a nonaggression pact that included a secret clause subjecting to Finland to Moscow's sphere of influence.
The Winter War lasted the four winter months and ended in March 1940.  The attempted invasion by the Soviet Union on Finland failed, but Finland was forced to yield large southeast areas to its giant neighbor to maintain its independence.