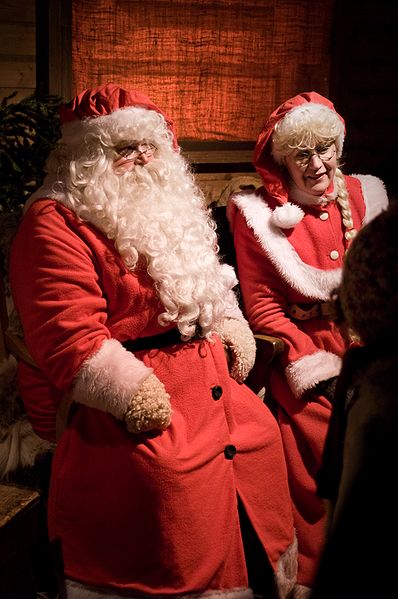 Joulupukki, (Father Christmas or Santa Claus in Finnish) is the most emblematic Christmas figure of the Nordic countries an the whole world.
Joulupukki proceeds from Finland, more exactly from Korvatunturi, a village whose location is unknown to all adventurous, as it is Santas's secret place, where he spends the rest of the year resting and preparing himself for his work on Christmas.
However, if one wants to visit Santa Claus, it can be done either now at Christmas time or at other times of the year in the Santa's workshops called Santa Claus Village which is open throughout the year in the city of Rovaniemi in the Finnish Lapland.
In these workshops Joulupukki prepares during the year the gifts of all the children in the World, with the help of Joulumuori (Mrs. Christmas) and his little helpers.

Every year thousands of children and adults visit Joulupukki in the Arctic town of Rovaniemi and leave their request letters for the next year's Christmas gifts.
Joulupukki has in Rovaniemi his own post office, a Christmas art and crafts exhibition, Santa Park; an entire theme park for children, and of course, that's where he keeps his beloved reindeers, with whom he flies on Christmas Eve to deliver gifts to the children around the world.
Joulupukki's workshop is about 8 kilometers north of the city of Rovaniemi. To get to Rovaniemi from abroad, the easiest way is to fly first to the Finnish capital Helsinki and from there take another flight to Rovaniemi with the airlines Finnair or Norwegian. Currently Joulupukki is putting the finishing touches to the gifts and packages of 2012, because in less than five days it is Christmas Eve, the day of the year when Santa works harder than ever in order to deliver gifts to all the children who have behaved well worldwide.