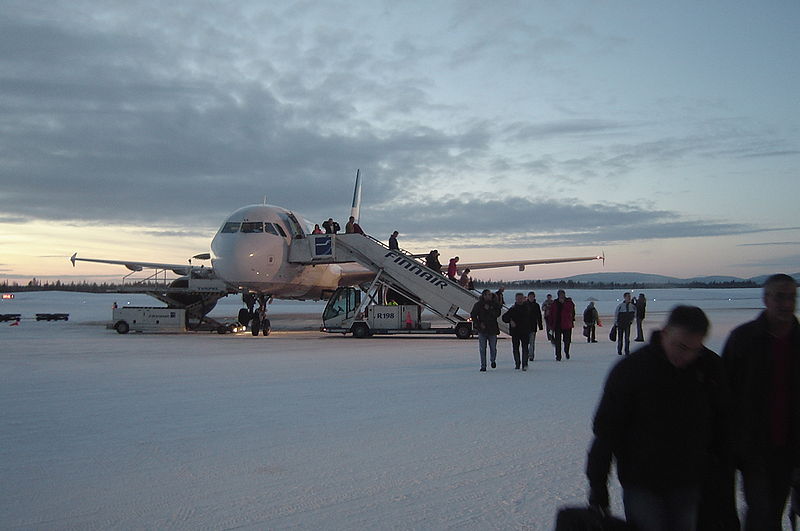 The airlines operating flights to the airports in Finnish Lapland are Finnair, Blue1,Finncomm Airlines (FLYBE), Air Baltic and Norwegian.
Rovaniemi is the largest city of the Finnish Lapland, being its airport the busiest one in the northern Finland. The airline with most number of flights in the Helsinki-Rovaniemi connection is Finnair, in addition to also offer a wide range of international connections from Helsinki.
The company Air Baltic operates the flight connection between Rovaniemi and Riga, whereas the norwegian company Norwegian also operates the connection Helsinki – Rovaniemi, offering easy stopover access to all the Scandinavian capitals. The company Primera Air operates charter flights to Rovaniemi from destinations such as Mallorca or Stockholm.
During the winter season several airlines operate charter flights to Rovaniemi related with the typical visit to Santa Claus' home. The operating airlines are Thomas Cook, Thomson, Jet2.com flying from the UK, while the company Edelweiss flies from Zurich and the company Wizz Air from Hungary, Czech Republic and Poland.
Click here for more information on low cost flights to Rovaniemi.
FLIGHTS TO KITTILÄ
The airlines serving the airport of Kittila are Finnair, Blue1 and Flybe. Below the possible routes:
FINNAIR from Helsinki
BLUE1 from Helsinki
FLYBE from Tampere and Turku
FLIGHTS TO KUUSAMO
FINNAIR from Helsinki
BLUE1 from Helsinki
FLYBE from Tampere
FLIGHTS TO KEMI-TORNIO
FLYBE from Helsinki
FLIGHTS TO ENONTEKIÖ
FLYBE from Helsinki
FLIGHTS TO IVALO
FINNAIR from Helsinki