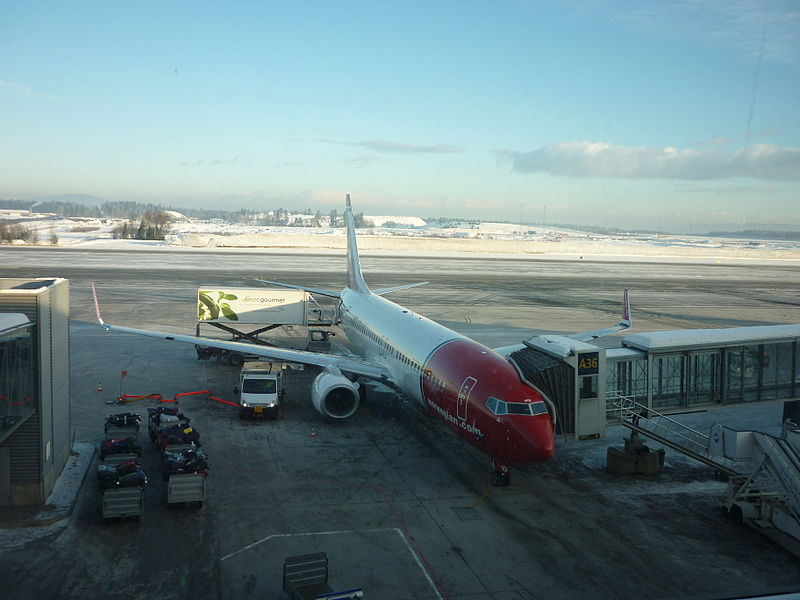 The easiest way to fly to Sweden is to take a flight to the Swedish capital Stockholm, around which there are a total of four airports including the largest, Arlanda Airport, and the smaller but also busy-ones, Stockholm Bromma, Stockholm Skavsta and Västerås Airport. Despite being the main airport in Stockholm, Arlanda is located about 42 kilometers from central Stockholm to the north, while the closest airport to the capital is the Stockholm Bromma Airport, just six miles from Stockholm downtown. Both Skavsta and Västerås airports are about 100 kilometers from Stockholm.
The same as to the capital Stockholm, there are many international flights to the city of Gothenburg in the western Sweden. The main airport of Gothenburg is Göteborg Landvetter Airport, about 30 kilometers from the city center. You can also fly to secondary airport of Gothenburg, Gothenburg City Airportlocated only 15 kilometers from the center of Gothenburg.The Airport of Copenhagen in Denmark, Kastrup, is also a possible gateway to Sweden, as the Swedish border is only a few kilometers away from the airport of Copenhagen.Besides those already mentioned, you can fly in Sweden to the following airports; Arvidsjaur, Borlänge, Gällivare, Halmstad, Hemavan-Tärnaby, Hultsfred, Jönköping, Kalmar, Karlstad, Kiruna, Kramfors-Sollefteå, Kristianstad, Lidköping, Linköping City, Luleå , Lycksele Malmo Mora Norrköping, Oskarshamn, Pajala, Ronneby, Skelleftea, Skövde, Storuman, Sundsvall-Härnösand, Sveg, Torsby, Trollhättan-Vänersborg, Umeå, Vilhelmina, Visby, Västerås, Växjö, Åre-Östersund, Ängelholm-Helsingborg , Örebro and Örnsköldsvik.
The largest airlines in Sweden are Scandinavian Airlines SAS and Norwegian, operating the two companies both international flights and domestic flights within Sweden.
Regarding the
Low Cost flights to Sweden
, these are the carriers that operate cheap flights to Sweden:
Aegean Air, Aer Lingus, Air Baltic, Air Malta, Airberlin & NIKI airlines, Blekingeflyg, Blue1, Brussels Airlines, Cimber Air, Condor Airlines , easyJet, Estonian Air, Fly bmi, Flybe, FlySmaland, Germania Express, Germanwings Golden Air, Gotlandsflyg, Iceland Express, Kalmarflyg, Kullaflyg, Lan Airlines, Nextjet, Norwegian, Nouvelair, Pegasus Airlines, Ryanair, SATA Air, Skyways Express, Sundsvallsflyg, SunExpress, Sverigeflyg, Thomas Cook Airlines, Tor Air, TUIfly, Umeåflyg, Vueling
and
Wizzair. 
Click here for more information on low cost flights to Sweden.
Flights from UK to Sweden
Sweden can be reached easily with a direct flight from several British cities such as London, Manchester, Edinburgh, Bristol, Glasgow, Birmingham, Aberdeen, Belfast, East Midlands, Leeds, New Castle and Liverpool.
The companies operating routes to Stockholm and other Swedish destinations include SAS, British Airways, Ryanair and Easyjet.
The company Skyways flies from Manchester and Birmingham to Gothenburg, and Ryanair operates flights from London Stansted to the Malmö Airport. It is also possible to access the southern Sweden by the Airport of Copenhagen which receives daily flights from the major European cities as well as from countries around the globe.
During winter time  there are charter flights operated to the northern airports of Kiruna and Åre/Östersund.
Flights from US to Sweden
Sweden is connected daily with the United States by the non-stop flights of the Scandinavian Airlines SAS and it's partner United Airlines to Stockholm from Newark,  NJ and Chicago.
Continental Airlines fly also to the city of Stockholm from Newark and NJ, whereas Delta Airlines fly to Stockholm from New York JFK.
It is also possible to reach Sweden with Icelandair, which operates flights to Stockholm with a stopover in the Icelandic capital Reykjavik from Seattle, Toronto, Boston, Minneapolis/St. Paul, New York (JFK), Orlando and Halifax.
List of all the airlines flying to Sweden:
Adria Airways
Aegean Air
Aer Lingus
Aeroflot 
Aerosvit Airlines 
Air Baltic 
Air Berlin 
Air Caraïbes Atlantic 
Air China 
Air Malta
Air France 
Air Sweden 
Atlas Jet 
Austrian Airlines 
B&H Airlines 
Belavia 
Blekingeflyg
Blue1 
British Airways 
Cimber Sterling 
Condor Airlines
Continental Airlines 
Corendon Airlines 
Corsairfly 
CSA Czech Airlines 
Delta Air Lines 
Easyjet 
Estonian Air 
Ethiopian Airlines 
Finnair 
Fly Bmi
Flybe
Flyglinjen
Flysmåland
Free Bird International 
Germania Express
Germanwings
Golden Air
Gotlandsflyg
Höga Kusten Flyg 
Iberia 
Iberworld 
Iceland Express 
Icelandair 
Iran Air 
Jat Airways  
Jettime A/S 
Kalmarflyg
KLM Royal Dutch Airlines 
Kronflyg
Kullaflyg
Lan airlines
LOT Polish Airlines 
Lufthansa 
Malmö Aviation 
Nextjet 
Niki 
Norwegian 
Nouvelair Tunisie 
Novair
Pegasus Airlines 
Primera Air 
Qatar Airways 
Rossiya-Russian Airlines 
Ryanair
SAS Scandinavian Airlines 
Sata  
Skyways 
Sundsvallsflyg
Sun Express 
Svenska Direktflyg
Sverige flyg
Swiss 
Syrian Arab Airlines
TAP Portugal 
Thai Airways International 
Thomas Cook Airlines Scandinavia
Tor Air 
TUIfly Nordic
Turkish Airlines 
Umeåflyg
Viking Hellas 
Vueling
Wizzair
Widerö
Companies operating domestic flights in Sweden:
SAS Scandinavian Airlines  Norwegian 
Widerö
Umeåflyg
Svenska Direktflyg Sverige flyg
Sundsvallsflyg
Malmö Aviation 
Kronflyg Kullaflyg Gotlandsflyg Höga Kusten Flyg  Golden Air Flyglinjen Flysmåland Blekingeflyg