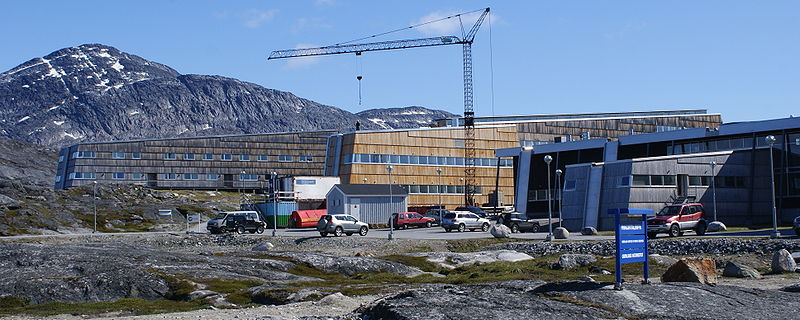 The principal educational institution in Greenland is the University of Greenland, Ilisimatusarfik, which was founded and established in the capital of Greenland, Nuuk, in 1987. Since its expansion in 2008, Ilisimatusarfik offers both college and professional studies, although before the university had offered only superior level studies in four different departments: the Department of Administration, the Department of Cultural and Social History, Department of Language, Literature and Media  and the Department of Theology. After the extension of the university in 2008 the Department of Social Work and the Department of Journalism were also added within the framework of higher education in the Greenland University.
In addition to the afore mentioned departments, the university complex of Greenland now covers also professional studies, including in its range the oldest educational organization in Greenland: the Institute of Learning which offers specialty studies in Teacher Training and Arctic Education. Likewise, the University of Greenland covers the Greenland Institute of Nursing and Health Sciences.
The University of Greenland was expanded in 2007 with the new building, Ilimmarfik (in the photo above) which is located in the northern part of the Greenlandic capital of Nuuk.
Foreign students at the University of Greenland:
All courses of the careers at this university are given in Danish and Greenlandic, although some courses are taught in English for foreign exchange students. The programs for foreign students at the University of Greenland have a duration of one or two semesters and are offered to students who have already completed at least two years of studies in their home university.
The University of Greenland accepts exchange applications throughout the year, although it is recommended to send the request at least four months before the start of the semester. The fall semester begins on September 1, while the spring semester begins on February 1.
The University of Greenland aims to provide accommodation in a specific student hostel to all visiting students accepted in the institution. According to the university, the student's basic living expenses in Greenland range between 600 and 700 euros (700-800 USD) per month.
According to the greenlandic law, the University of Greenland can only give a full and official college degree to a Danish citizen. Therefore, for students coming from other countries the only way to study in Greenland is through an exchange program or possibly taking separate courses without obtaining formal qualifications.
UNIVERSITY OF GREENLAND (Ilisimatusarfik) Information sheet
MAILING ADDRESS:
Ilimatusarfik
Manutooq 1
P.O. Box 1061
Greenland 
PHONE:
+299 36 23 00 
FAX:
+299 36 23 01   
INTERNAL INSTITUTES OF THE UNIVERSITY:
Institute of Ilimmarfik
Institute of Learning
Institute of Nursing and Health Science
TYPES OF CAREER BY DEPARTMENT:
Department of Administration (ILIMMARFIK)
Department of Cultural and Social History (ILIMMARFIK)
Department of Language, Literature and Media (ILIMMARFIK)
Department of Theology (ILIMMARFIK)
Department of Social Work (ILIMMARFIK)
Department of Journalism (ILIMMARFIK)
Department of Teacher training  (INSTITUTE OF LEARNING)
Department of Nursing and Health Science (NURSING AND HEALTH)
Institute of Arctic Education (INSTITUTE OF LEARNING)